HISTORY
The Ferntree Gully Bowling Club committee was first established in November 1965, when the Rotary Club resident held a public meeting at the Council Chambers to seek support to establish The Ferntree Gully Bowling Club.
There was no lack of support for the club and a unanimous decision to proceed with the formation of a Bowling Club was made. Elections of office bearers and committee followed.
Original Office Bearers
President:               Mr H A Clarke
Vice Presidents:    Mr B Seebeck and Mr W Tew
Secretary:               Mr G Eldridge
Treasurer:              Mr D Goudie
Committee Members: L Hansen, J Pickett, L Martin, R A Stride, L Tozer, W Brown and L Batten.
The Committee then when into negotiations with Knox Council as to a suitable site for the Bowling Club. The suggested site on vacant land adjoining Glenfern Park next to the tennis Club was the result.
The Committee then signed a 75 year lease for this land and construction of the first green was put out for tender. Part of the lease agreement was that the club would spend a certain amount on the development of the site each year.
The club has long history of enthusiastic volunteers, which was needed in the development of the club and continues with our many volunteers today.
The clubrooms were first started in 1979 and have been added to and extended over the years.
The first Synthetic green was laid in 1991 . In 2011,  2 of our greens were updated.
Today, the Ferntree Bowling Club has clubroom facilities that include bistro, bar, function rooms, BBQ area and 3 Synthetic greens.
The Ferntree Gully Bowling club enters teams in both the Tuesday and Saturday Pennant Season, has numerous options for social bowls, carpet bowls and our Barefoot bowls season in the warmer months.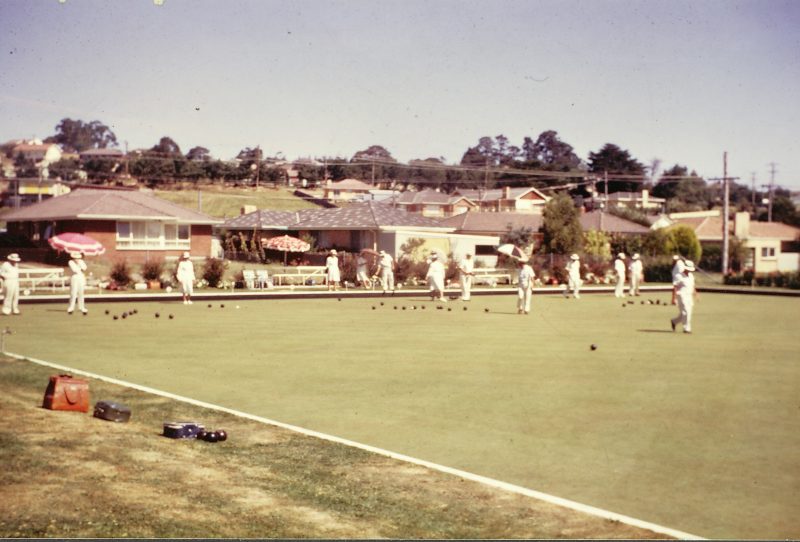 The Ferntree Gully Bowling Club is managed by a Committee of Management and the Bowling Committee
Office bearers for the 2018/19 year are -:
Committee of Management
CEO: Les Stephens
Executive Secretary: Terry Martin
Executive Treasurer: David Barclay
Executive Committee:

John Milburn
Rhonda Raisbeck
Bowling Committee
President: Ron Coleman
Vice-President: Robyn Coleman
Secretary: Brian Raisbeck
Asst Secretary: Merilyn Selvey
Committee Members:
Rosemary Ponton
Judy Tournier
Blanch Williams
Bob Selvey
Heather Padgham
Saturday Selection
Les Stephens
Les Lucas
Fred Murray
Jim Marshall
Warren Spence
Tuesday Selection
Ron Coleman
Marg Robbins
Louise Sheldon-Collins
Ray Morrell- Porter
Jenny Jennings
Greens Director  – John Sartori
Mens Welfare: Ken Miller
Ladies Welfare: Dorothy Miller
Life Members
Don Alexander (Dec'd. 2011)
Mrs. P. Alexander (Dec'd)
Noel Clarke (Dec'd)
Murray Furmston
Don Gillies (Dec'd)
Col Hibbins (Dec'd Oct 2011)
Mrs. L. Hunter
Mrs. B. Krygger (Dec'd)
Gordon Lewer
John Sartori
E. Sims  (Dec'd 2013)
Les Stephens
David Barclay
Janet Dick
Jim Milburn
Max Paton (dec'd 2016)
Ken Miller
Glenice Sabell
John Milburn
Venue Manager
Doug, McArthur.(Venue Manager) (manager@ftgbowls.com.au)
Neva Guinane (Operations Manager) (accounts@ftgbowls.com.au)
Club Historian
Coaches
Simon Jeffery
Jason Saunders
Gail Bowen
Bob Selvey
Umpires
Jim Marshall
Tony Jeffery
Bob Selvey
Keith Sheldon-Collins
Graeme Trinnick
Privacy
FTG Bowls is committed to protecting your privacy.
Information submitted to this website is used by FTG Bowls solely for the purpose of processing submissions or enquiries.
This information will not be passed on to any third party, for any reason, unless FTG Bowls is required by law to do so. This web site may contain links to other sites. Please be aware that FTG Bowls is not responsible for the privacy practices of such other sites.
If you have any queries relating to this Privacy Policy please contact us via this websites contact form, or phone (03) 9753-5888. Your privacy is important to us and any queries or concerns you may have will be taken very seriously.
Club Constitution
Ferntree Gully Bowling Club Inc Costitution 2017  (Be advised. It is 32 pages long. Make sure you have plenty of ink.)
LINKS
Here are some useful Links. These will be added to as need arises. Any suggestions welcomed.
Bowls Victoria – www.bowlsvic.org.au
Bowls Australia – www.bowlsaustralia.com.au
Henselite Australia (bowling equipment sales) –www.henselite.com.au
Drakes Pride (Australia) (bowling equipment sales) – www.drakespride.com.au
Eastern Ranges Bowls Region – www.easternrangesbowls.org.au (Please note, this site does not work very well on old internet browsers e.g IE8 or earlier.)
Melbourne 125km Radar Weather. www.bom.gov.au/products/IDR023.shtml
"The Shot" Magazine:  www.e-brochures.com.au/bowlsvic/theshot/
Gaming Code of Conduct
The Gaming Code of Conduct can be obtained by clicking below
FTG Bowling Club Code of Conduct
For viewing the Gaming Code of Conduct in languages other than English copy and paste the following link into your web-browser.
Code of Conduct – Languages other than English

Related Links
The provisions of the Code pertaining to Complaints Process and Self Exclusion Programs  may be viewed as a pdf file here.